BoVegas is among the newest online casinos, and it already has a huge number of devoted players. This casino offers some of the best video poker games, and you can read all about them in our article.
BoVegas Video Poker
BoVegas online casino offers games powered by an industry legend RealTime Gaming.
They have a vast selection of games and different game categories, and you can be sure you'll find anything you need there. If you want to try video poker games and play for real money, BoVegas is the place for you!
Best Video Poker Games
If you want to play some of the best video poker games online, simply sign up on BoVegas and choose between 17 different games. Video poker is generally more popular in land-based casinos, but that's not the case with BoVegas, as there are plenty of gaming options and fantastic RTG titles to pick.
BoVegas' website is very simple to navigate. To find all the video poker games, simply go to the Games section from the Home page and then, select the Video Poker icon.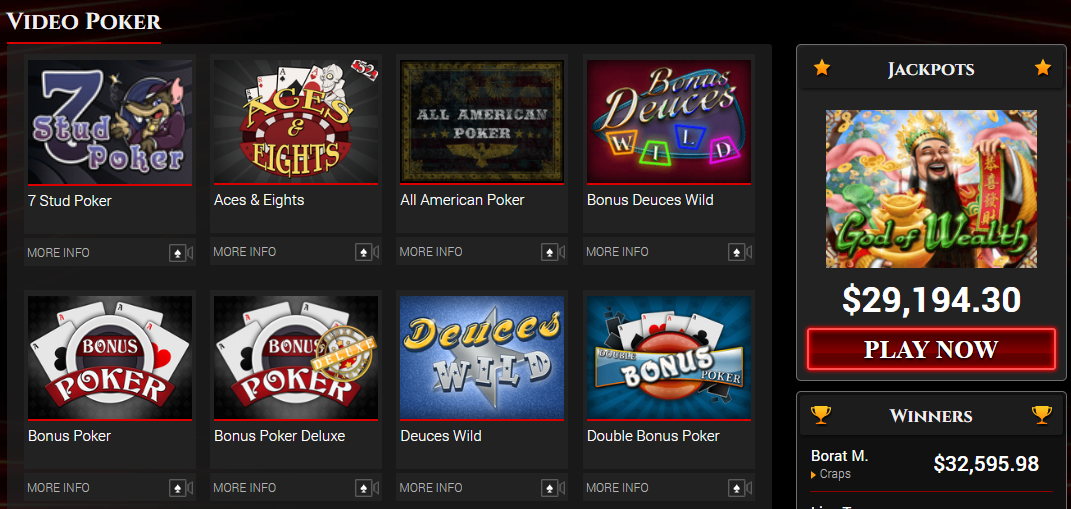 In the video poker section, you can find some RTG classics often featured in top 10 lists all over the web:
Aces & Eights

Double Jackpot

All American

Double Bonus

Deuces Wild
Millions of smart casino players from the United States and all over the world love video poker due to a low house edge and great payout percentages which are the recipe for big awards. Also, compared to slot machines, video poker takes a bit more skill to master because you need to choose a good strategy.
When it comes to the return to player rate (RTP), Aces & Eights (99.87%), All American (99.60%), and Double Jackpot (99.63%) are among the best paying games online, and it's great to find them at BoVegas Casino. The high return offers the best odds. The RTP in these games is 99%+, which means that your odds of making a lot of money are incredibly high for a casino game. We will discuss payouts in more detail later, but let's go back to the games themselves.
As always with RTG, old-school gamers and new players will be very impressed with the quality of the video poker games. Compared to the RTG's slot games, which are always visually enticing and feature 3D animations and smooth graphics, RTG video poker games at BoVegas are very simple. For video poker, simple is always better. The point of the game itself isn't about sophisticated graphics, it's about the fast pace and quick gameplay that allows you to win quickly. For example, Aces & Eights draw poker is a fast-playing game where you could even play 20 hands per minute. Some games like Double Double Jackpot allow you to play with even 100 hands. If you add complicated graphics into the equation, the game could be quite slow and unplayable. That's why RTG's design for video poker is intuitive, quick, and gets straight to the point.
Most of the video poker games at BoVegas feature a simple yet colorful layout that shows you the paytable, your cards, options for betting, dealing, and displays for your bet amount, coins played and credits won. BoVegas regularly adds new titles so you can be sure that the rich video poker section will expand even further.
How to Play BoVegas Video Poker
It's very easy to play BoVegas video poker. Most of the games have the same interface and guidelines because they were all made by RTG. Any beginning or experienced player can get the hang of the games in just minutes, and the rules are always clearly displayed.
Generally, when you enter the video poker games, you have to select the value of your wager and place a bet with the "Bet" buttons and arrows. In most video poker variants, the bet is usually $0.05 to $5 per coin. You can wager one coin per card. Compared to live poker, in BoVegas video poker, you play against the virtual dealer.
When you select how much you want to bet, you press "Draw" and get your cards. Usually, you click on the cards that you want to hold and then draw again to get rid of the cards you want to discard. Some games don't allow this option, so it's best to check the rules per each individual game. The winning combinations are clearly shown on the paytable in each game, and the highest winning combination is usually the Royal Flush.
When you get a winning match, most games will allow you to go double or nothing. Some BoVegas video poker games have the Joker as the wild card. Other games like Deuces Wild have even more wilds – in this game, any deuce (2) acts as the wild card. Other games like 7 Stud Poker offer exciting bonus rounds.
Some rules might vary, and BoVegas has made it easy for you to find them by clicking on the "More Info" button found under each game in the video poker section. The rules are written very clearly for everyone to understand, and if you have any questions, you can contact BoVegas' 24/7 customer service via live chat.
Mobile App
Apart from instant play and downloadable versions, many people play casino games on their mobile devices because they don't have time to play on their computer or they want to have fun on the go. BoVegas offers a great mobile app to cater to players' needs, and most of the titles are available.
The mobile app also allows you to test the games by playing for free and it gives you a $1,000 fun balance.
The free game mode this app offers is useful because you can check out any game you are wondering about and simply play for fun without risking any money. It is important to note that the "fun" balance is not as rewarding as playing with real money. After all, you can't have any winnings from those games.
Overall, BoVegas mobile app is a great option for all players who want to game on the go, and the games look great on it.
BoVegas Video Poker Payouts
With wagering requirements starting from $0.05 per coin, you can have a lot of fun playing BoVegas video poker. We've already mentioned that games by RTG are some of the highest paying on the web and BoVegas definitely respects that.
BoVegas poker games offer 99%+ RTP, which is simply incredible. The max payouts in video poker are usually 4,000 coins but they can get as high as 20,000 for games like Joker Poker. As mentioned, the paytable is shown clearly in each game, and you can see how the winning combinations pay out to determine your wins.
Regarding deposits and withdrawals, you can use MasterCard, Visa, Bitcoin, and other methods which you can check in the "Banking" section.
BoVegas Casino Bonuses
When you gamble online, it's important to find a casino that will give you welcome bonuses and bonus offers which you can use to your advantage. Fortunately, BoVegas is very generous with their promotions.
The casino often gives $20 to $50 no-deposit bonuses, so you can play and win without spending any money if you use this offer. But that's not all, there are many deposit bonuses you can get. You can find them in the "Promotions" section.
The Verdict
BoVegas has a great selection of various video poker games that will expand even further in time. The games by RTG offer an exciting and fast-paced experience without any gameplay problems and will keep you entertained for a long time. The payout options of video poker are the reason why these games are so popular and why many people play them at BoVegas. So check and see for yourself why BoVegas is one of the best upcoming casinos out there today!