Wondering about the best online games in BoVegas Casino? Check out this review of the top 10 games according to player statistics. We will discuss features, rules, how to play, and reveal what makes each game unique.
Best BoVegas Games
If you are a beginner or experienced player looking for great slot games, table games, video poker, and specialty games, you will love BoVegas and their selection of incredible titles. All BoVegas gaming software is developed by RealTime Gaming, which has already got a cult following of fans from all over the world.
RTG games are among the most famous casino games online, and this article will look into the top 10 most popular and best games on BoVegas casino. These games are available to players worldwide, including the United States.
Top 10 BoVegas Casino Games
BoVegas is a fairly new casino that is just starting to gain traction. However, it has already earned a lot of loyal followers and offers an incredible library of over 200 titles by RTG. BoVegas has games in every casino category imaginable and strives to bring you the classy experience of playing in Las Vegas. They also have a big offer of promotions and match bonuses. The games are available as instant-play games in your browser or through a downloadable client. BoVegas is also a mobile casino, so you can play these games on all your devices. All you need to do is register, pick your game platform, and select the game you want to play.
Let's take a closer look at the top 10 BoVegas offerings which were chosen by player statistics. We will look into game details, gameplay, graphics, theme, features, payouts, and other key information. For detailed payout options, rules, how to's and more, be sure to consult the Help section of each game, and you'll find what you need to know in seconds.
Bubble Bubble
Bubble Bubble was among the most popular slot games for Halloween, and it seems that the hype has not settled down. It's quite a flirty slot, featuring Winni, a sexy witch, as the main character and wild symbol.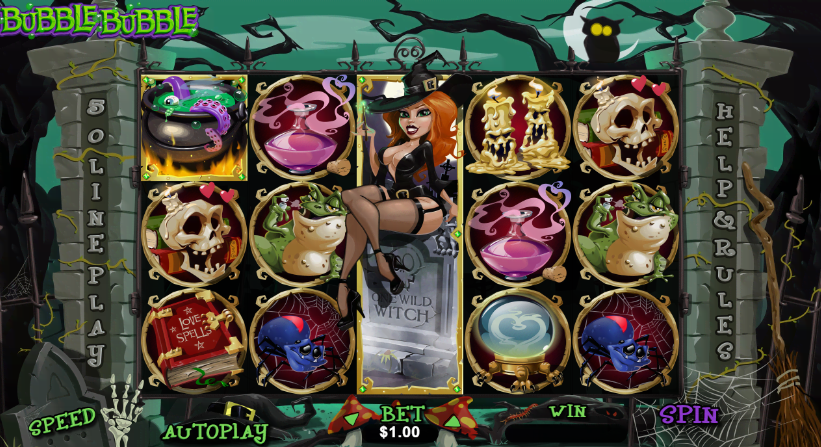 There are some goofy or even quite scary Halloween-themed symbols like ghosts, skeletons, spell books, and spiders. These high-quality illustrations are even better when you combine them with RTG's stunning graphics and animations that are offered in this game. The gameplay is fast-paced and works without problems on all platforms.
Regarding game features, Bubble Bubble has 50 paylines, 3 bonus games, as well as a unique Win-Win option that allows you to win real money automatically even if you lose during the bonus game. If you're lucky, the game could multiply your bet by 100. On top of all that, some creepy Halloween music will follow you during gameplay. If you're looking for a bit of magic, Bubble Bubble is definitely one of the best Halloween-themed games for you.
Cash Bandits
Cash Bandits is an action-packed 25-payline slot featuring a cops and robbers theme.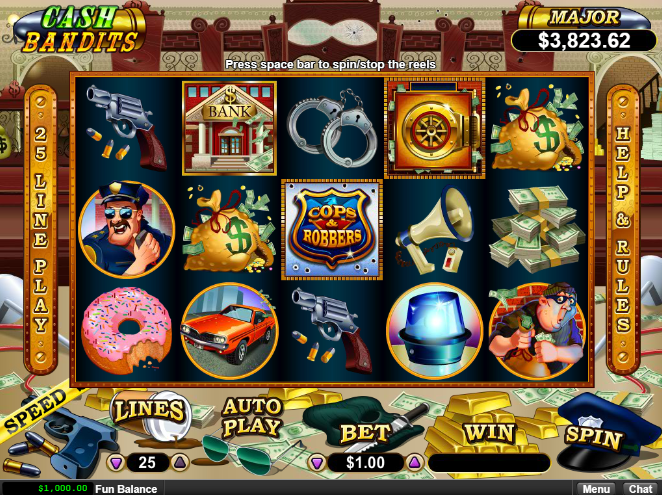 The great theme and visuals of Cash Bandits are the reason why it is so popular among gamblers, and the fact that you could win a jackpot which is 30,000 times your bet means it's one of the highest paying slots out there. If that's not enough, it offers RTG's progressive jackpot which you can win randomly at the end of any game.
The special feature is the "Vault" which allows you to win even 90 free games with very generous multipliers. If you unlock it, you'll see some unique 3D graphics and gameplay that you will never find in conventional slot machines. Cash Bandits features some hilarious game symbols like cops, donuts, piles of cash and funny robbers that will keep you entertained for hours.
Secret Symbol
Secret Symbol is another RTG game that often makes it into top lists for all online slots. This game features 25 variable paylines, and it will show you the secrets of the Aztec Civilization.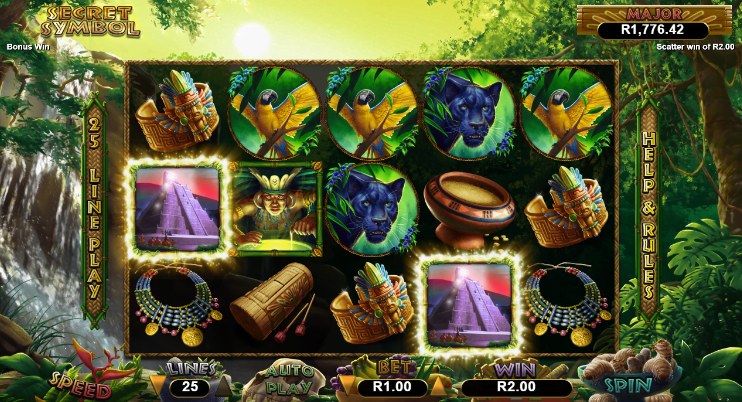 In Secret Symbol, you can win 50,000 coins and two progressive jackpots and there is a cool Speed feature that allows you to speed up the game. The Aztec theme looks stunning, with a lovely animated waterfall running in the background and some mysterious game symbols related to Aztec culture. It's no wonder this game is so popular as it offers quite a thrilling experience, enticing visuals, and lightning-fast gameplay. The special feature in this game is called Secret Symbol and you could win multipliers up to 20x thanks to it.
Lucha Libre 2
When the famous Lucha Libre returned, the sequel became even more popular. The aim of this slot is to defeat the mean Nacho Friend by winning as many prizes as you can.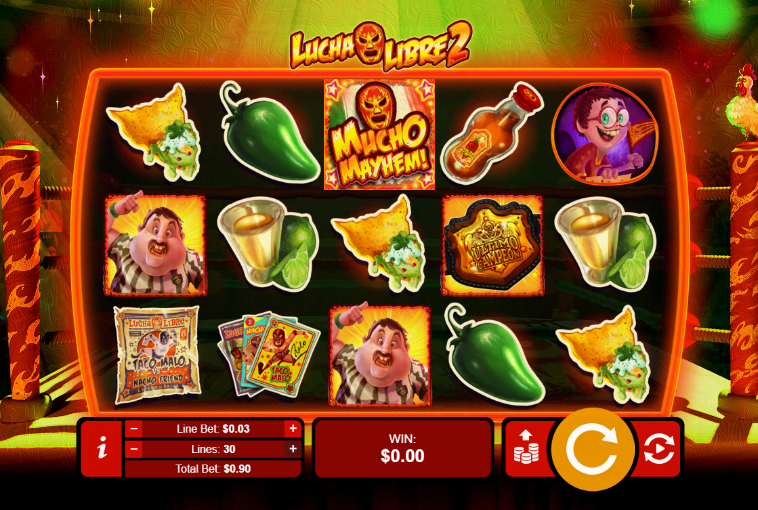 Lucha Libre 2 is a cheery and exciting wrestling-themed slot, just like the original game but with some extra features. There are 30 paylines, and the max prize is 50,000 coins. The bonus features are called Fist of Fury and Time To Rumble, in which you can win some great multipliers and free spins. If you activate Time To Rumble bonus game with scatters, you will find yourself in a fierce wrestling match, and you'll win if you pick the best moves. We especially love some of the game symbols which look like Mexican food.
Count Spectacular
For fans of vampires, Count Spectacular will not disappoint. This 25-payline slot was made way back in 2010, but it is still holding its place as one of the most popular casino games on the internet.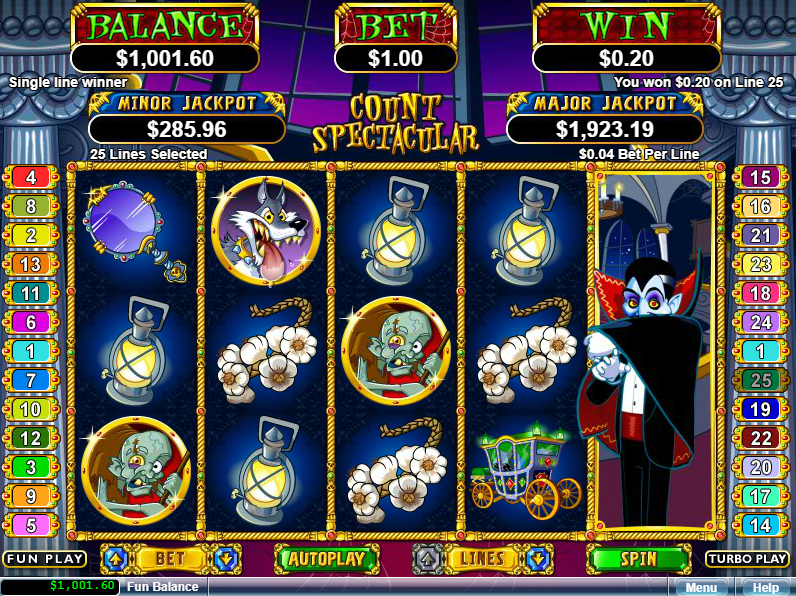 Count Spectacular features some cute gothic visuals, and it's meant to be more funny than shocking and full of horror. If you go into the count's lair, you will find symbols like goblins, wolves, coffins, garlic and of course, bats.
The game can multiply your bet by 200 and there are two progressive jackpots. Regarding gameplay, it's smooth and quick. However, the addition of some funny horror music could improve this game. However, we think it's incredible that this slightly older game is still among the top online casino games in the world. On top of all that, the cash prizes are quite attractive, with 10,000 coins as the max payout.
Cash Bandits 2
If you didn't have enough of Cash Bandits, you are in luck because a sequel was recently released! The sequel improves on the heist theme and adds some additional options.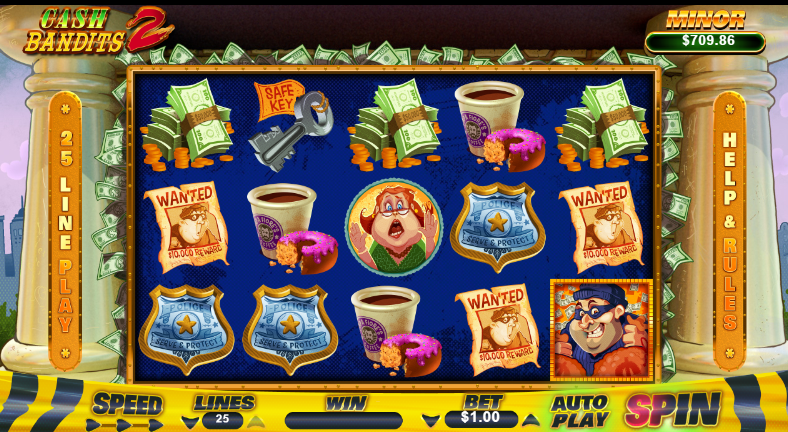 Cash Bandits definitely follows up to the original in a superb way. The animations are very striking, and the symbols are even funnier, with some handcuffs, wanted posters, donuts (this time with coffee) and hilarious robbers. And with 190 possible free spins that can give you even 17x multipliers, we can't find anything wrong with Cash Bandits 2.
Bubble Bubble 2
Speaking of sequels, Bubble Bubble is back and this time, with even more witchcraft and magic!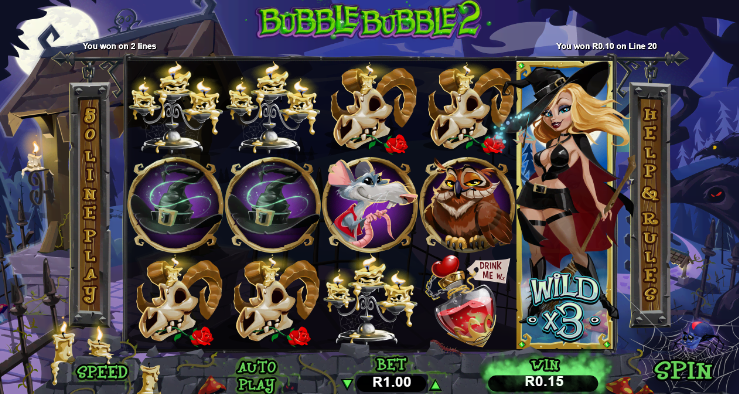 In the sequel, the witch Winni is joined by Wanda, her gorgeous sister and it seems that the graphics and visuals are even better now. There are 50 paylines, and the sound effects and animations definitely live up to the original. The scary game symbols have been updated to potions, bats, and black cats among others. Both witches are wilds in the sequel, and they award some cool features called Wild Witches, Greater Ghosts and Ultra Bewitched. The sequel also has the Win-Win option that we mentioned earlier. If you play Bubble Bubble 2, you could win plenty of free games and a max payout of 9,000 coins.
Swindle All the Way
Ho, ho, ho! If you're in the mood for a Christmas themed casino game, Swindle All the Way is a 25 payline slot that will definitely fill you with the Christmas spirit.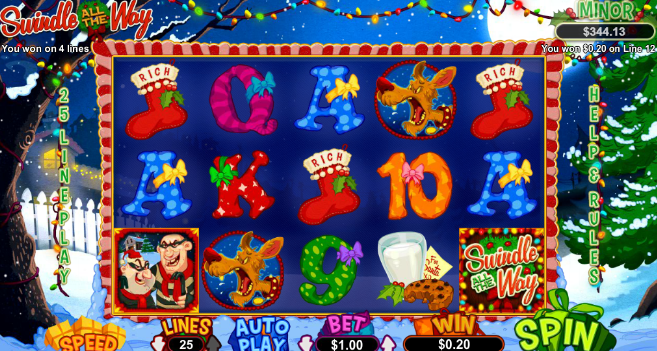 This slot features some jolly symbols and animations that create a fabulous Christmas atmosphere. You will definitely be impressed when you see its display of colorful lights and an animated snowy background. If you're a fan of the Home Alone movies, this slot looks kind of like that. There are some house burglars which are the wild symbol in this slot, and the cartoon-like style is simply awesome. The burglars can trigger a fun-packed free game in which you have to find hidden robbers by clicking on some windows. You can win as many as 60 free spins and a payout of even 82,500 coins. In addition, this jolly game offers two progressive jackpots.
 Eagle Shadow Fist
If you are looking for something truly special, try Eagle Shadow Fist slot that features none other than Jackie Chan, the world famous action star!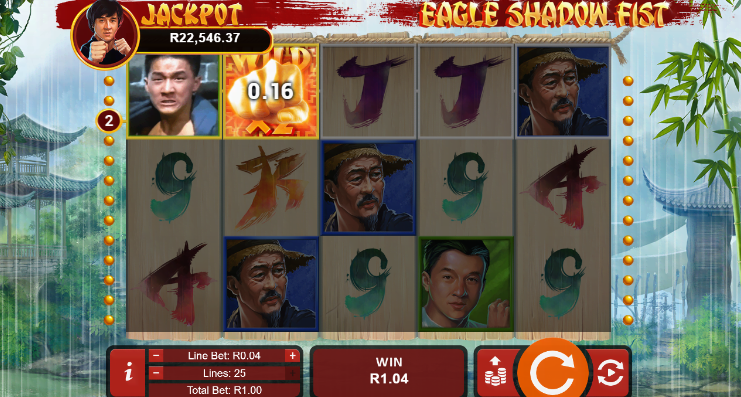 This slot was actually inspired by an old Chinese movie from the 1970s which was packed with action. Aside from Mr. Chan, Eagle Shadow Fist features some great characters, oriental graphics, and visuals as well as a traditional Chinese soundtrack and great sound effects. When the wilds appear, there is an awesome clip of Jackie Chan from the old movie, which makes the slot stand out. Some standard slots could definitely get choppy due to these graphics, but that's not the case with this RTG slot, as the gameplay runs perfectly.
This slot offers 25 paylines, the chance to win 20 free games, and many different multipliers.
Asgard
Last but not least, the game that rounds off our list of top 10 list of BoVegas games is the epic Asgard slot.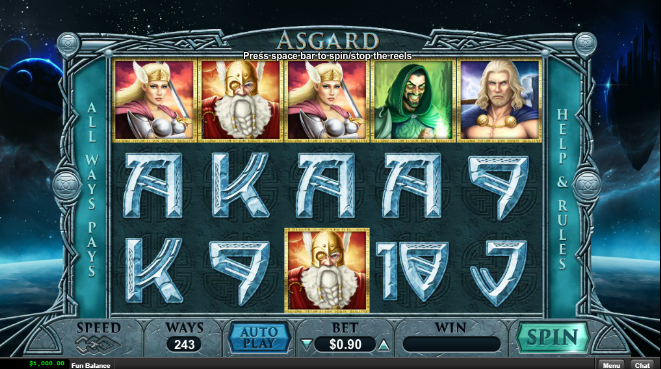 This Norse-themed slot has no paylines, pays all ways, and in total, there are 243 ways in which you could win.
In short, if you get any winning combination on the screen, you will win a prize. The game takes you to the mythical realm of Asgard, and you will meet all the legendary characters like Thor, Odin, Loki, and more. Asgard features some dramatic music, epic visuals, and great visual design overall. There are some special features like Thunderbolt, Goddess, and Loki's Magic. Other awesome features include Thunder God and Valhalla. Asgard is packed full of features that can give you some tremendous multipliers and free spins. The game offers a progressive jackpot and has a very low house edge, which improves your odds of winning big prizes.
Summary
When it comes to the best online gambling experience online, BoVegas has definitely got you covered! The top 10 games in this casino are full of action, fun themes, great graphics, and superb gameplay. Some have great soundtracks that make the playing experience even better and overall, playing all of these games is endlessly fun.
Of course, the games on our list have many more rules and features that you can see in their Help sections. If you have any other questions about them and want to get info about deposits and withdrawals, deposit bonuses, wagering requirements or anything else, contact BoVegas' 24/7 customer support via live chat or phone (toll-free).
We talked a lot about themes, graphics, and overall game design but to finish off this article we also have to mention that, on top of the stunning game design by RTG, these top 10 BoVegas games are definitely some of the highest paying online. They can make you a real fortune if you are lucky, so, head on over to BoVegas and try all these epic casino games!